What's the best way to cross the desert?
We've heard many answers. Camels, 4×4 vehicle, quad bikes at one point someone said walking. To the latter we say, we'd like to see you try. We really would. It's actually fun as opposed to what most people think. Yes, it's going to be tiring, but it's going to be worth it.
However, we'd like to talk to you about quad-biking in the desert. If you've done that already, then you know that you'll want to do it again. Those who haven't but want to, you're most welcome to join our Quad biking Marrakech. It has everything you imagined, and even more. 
But, we're mainly talking to those who are hesitant to try this excursion. We'd like to start off with Helen. Helen has never been on a motorbike, on tarmac, let alone a quad bike in the desert.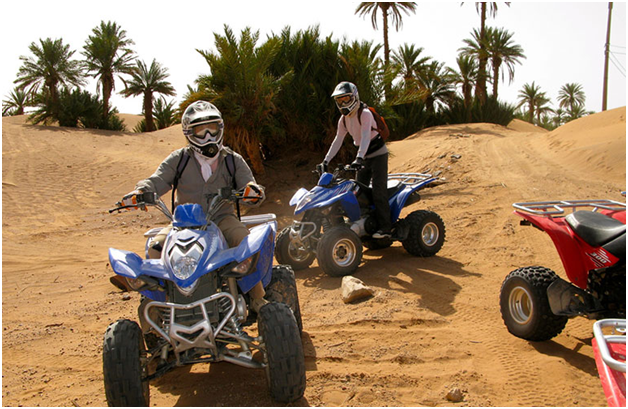 " No way I'm getting on that. It looks dangerous." Says Helen, with a suspicious look on her face. Her brother kept reassuring here, but she was still hesitant. 
Fast forward to 1 hour after she got on a quad bike with her brother. " I want to try, let me drive." Says Helen with the widest smile on her face.
We're sure that you'll feel like Helen. Since this a concern to many, we'd like to assure you that it is completely safe. Before you embark on Quad biking Marrakech, you'll be given plenty of protective gear: Glasses, gloves, a helmet…
You'll then be briefed on how to operate the quad bike. It's fairly simple. And the fact that it has four wheels, you don't have to worry about balancing it. Simply sit, follow the instructions, and off you go!
You'll be crossing the golden desert, far away from the bustling busy streets of Marrakech. The Palm Grove offers gorgeous scenery that'll take your breath away.
You may ride along with a partner or a friend, and you can switch drivers mid-way. Like Helen and her brother.
It's a different activity from the ones that you have in the city, or even in the desert itself. We'll the first ones to agree that crossing the desert on a camel is majestic and relaxing, but we'll also admit that Quad biking Marrakech is as exciting as camels – maybe even more so.
You'll have the opportunity to dive deep into the Palmeraie. This amazing place is dotted with thousands of palm trees. You'll cross the Tensift river and visit Berber villages. 
Quad biking Marrakech isn't all daring and adrenaline, it also has its peaceful moments. For instance, you'll have a chance to pull over and gaze into the wild yellow yonder. Not only that, but you're going to have an amazing time at a Berber tent, and delight in Morocco's sweet mint tea. 
Once again, this morocco desert excursions is completely safe. You will be monitored by a quad-biking guide. They'll brief you, keep you at ease, and lead the group. They're also just hilarious so expect puns. 
Children under the age of 14 may ride with an adult. Helen is coming back next year with her younger sister and she's going to give her the ride of a lifetime – her words.
You won't miss this excursion as it has daily departures. You'll also be picked up from your hotel and dropped off. 
Everything is well-managed and tons of fun will be had. Join us, live differently, and explore the nearest Morocco desert tour from Marrakech without petrol.